Elders on Campus

NLC Elders in Residence Program

Organized by the College's Truth and Reconciliation Committee, the Elders in Residence Program responds to the Commission of Canada's Calls to Action. In keeping with the College's inclusive delivery methods, the Elders in Residence Program provides service to students in face-to-face meetings and by phone.

Students are encouraged to contact Elders when seeking personal or professional cultural advice or guidance, with questions about Indigenous protocol or languages, or just to have a casual conversation or to say hello. The Native Cultural Arts Museum provided the design and exhibiting of artifacts in the Elder's rooms.
Elder Biographies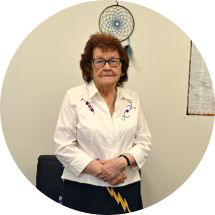 Elder Betty (Davis) Jackson - Stony Point (Wabasca) Campus
Elder Betty has lived in Wabasca since 1974. She is originally from Kinuso and is a member of Swan River First Nation. Elder Betty is a fluent Cree speaker and she has taught Native language and culture at Mistassiniy School for 20 years. Elder Betty graduated from the Northern Lakes College Aboriginal Arts & Design program. Today, she continues to teach crafts such as porcupine quill art, bead work, fish scale art, moose hair tufting, and tipi making. Elder Betty has also worked as a part-time Elder at OPK School in Wabasca for a number of years.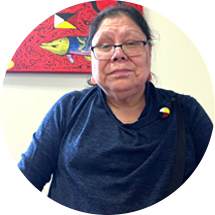 Elder Priscilla Lalonde - Peace River Campus
Priscilla Lalonde lives in Peace River and is a proud mother to two children and blessed to be a Kokum to three amazing nosimak (grandchildren). She is nehiyaw, treaty from Driftpile First Nation (through her father) and Métis (through her mother).
Priscilla has had the honor of being in the helping field for over forty-five years. She graduated from Grant McEwan College with a diploma in Social Work in 1982 and from the U of C with a Bachelor of Social Work degree in 1990. She has worked in the areas of addictions, child protection, family violence prevention, and mental health. She has volunteered on many boards, committees, and other helping agencies in her effort to contribute to her home area. She has been able to integrate these professional and personal experiences in her current work.
Compass Wellness

Your Mental Health Matters
Living your best student life starts here
Compass is a digital platform designed to provide a comprehensive list of mental health supports and resources. With personalized recommendations and a wide range of mental health resources, Compass helps students find the right tools for their needs. Check out the Mindfulness Library for ways to practice self-care or click the Emergency Support button for the contact information of critical supports in times of crisis.

First time visiting Compass? Click the link below, then click the blue "Enter" button and finally click "Sign up" on the following page.
Use your NLC email address to get your free account today!
Bright Breaks

Take Breaks, Win Prizes
Your Well-being is a Priority.
Bright Breaks sets itself apart from other wellness programs by providing a wide range of tailored solutions for personal growth and continuous learning. NLCSA students and staff can choose from over 250 live classes per week, ranging from 7-minute sessions to comprehensive 45-minute experiences. These captivating sessions cover meditation, yoga, fitness, mindfulness, nutrition, inspiring keynote speakers, and more.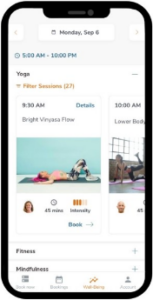 Embark on your wellness journey conveniently through your mobile device or desktop, and the best part? It's completely free to get started when you use your NLC email address to sign up!
Unlock a brighter future at choosebright.com/nlcsa.
Automatically join weekly challenges by taking live or on-demand breaks (classes). New prizes to win every week! Double your changes of winning by turning on Daily Break.